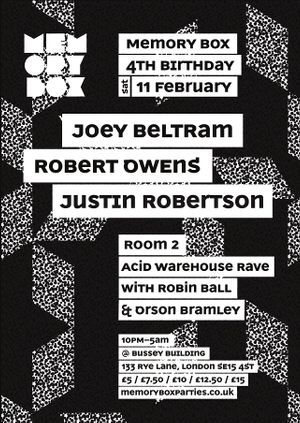 Memory Box 4th Birthday - Joey Beltram & Robert Owens + Acid Warehouse Rave
11th Feb 2017 9pm - 4am
Add to Calendar
Event Details
On Saturday 11th February Memory Box celebrates its 4th Birthday with some true pioneers of electronic dance music. Headlining, Joey Beltram is one of the most important pioneers who defined the early techno rave sound with his original R&S releases that, to this day, still tear up a dancefloor and whose influence can still be felt through the variations of techno and electronic music today. Also playing is Robert Owens whose name is synonymous with early Chicago house music, forming Fingers Inc. with Larry Heard and providing vocals on seminal tracks "I'll Be Your Friend" and "Tears" with Frankie Knuckles and Satoshi Tomiie. And finally, adding to the already mighty line-up is British icon, Justin Robertson who is very much part of the Memory Box family having been the first guest to play at Memory Box back in 2013 and who has delivered many a great 'History of…' set since.
"One of the things that sets Memory Box apart from a lot of club nights currently is the diversity of music you will hear over a night." Explains creator Robin Ball. "I take care to program it well so it flows through the night. This diversity is something that was more common in the 90's and this night is showcasing some of my early influences. Joey Beltram was on the harder edge of my musical spectrum while Robert Owens was bringing the soul. Justin Robertson has always been a big favourite of mine as his style and collection of music is like nobody else."
Bussey Building's Room 2 will feature the third Memory Box Acid Warehouse Rave with honcho Robin Ball. The suitably warehousey vibes of Room 2 is the perfect setting, with Robin playing a mix of classic and modern acid pumping out on their Void Sound System.
For four years Memory Box has been celebrating the influences of today's electronic music scene and encapsulating some of the most memorable moments in time.
Previous guests have included: Leftfield (DJ set), Farley Jackmaster Funk, Nightmares On Wax, Trevino, DJ Pierre, Phil Hartnoll (Orbital), A Guy Called Gerald [Live], Egyptian Lover, Greg Wilson, Luke Vibert, Darren Emerson, Justin Robertson, 808 State, Hardfloor [Live], Mr C, Saytek [Live] 2 Bad Mice..........