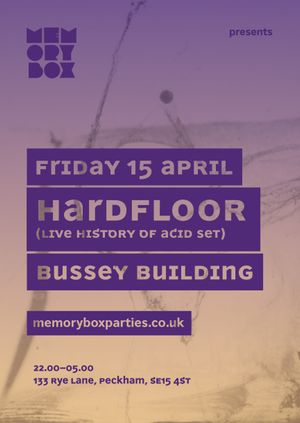 Memory Box presents Hardfloor [LIVE History of Acid set]
15th Apr 2016 10pm - 5am
Add to Calendar
Event Details
Following the exceptional 3rd Birthday and Memory Box takeover at the Bussey Building with Nightmares On Wax, Farley Jackmaster Funk and Memory Box instigator Robin Ball, we return on Friday 15 April with a LIVE 'History of Acid' set from German Acid legends Hardfloor.
£5 / £7 / £10 / MOTD

Hardfloor are Oliver Bondzio and Ramon Zenker from Duesseldorf, Germany who formed in 1991 as the German acid and techno scenes were just beginning. They released the 9-minute track "Acperience 1" soon after, deciding to inject a bit of bombast into the German scene. This ground-breaking single made their name instantly recognisable to European clubbers. Since then they have released 9 studio albums and multiple remix projects for artists including Depeche Mode, Mike Oldfield, New Order, Mory Kante and The Shamen plus countless remixes of underground anthems like A Guy Called Gerald's "Voodoo Ray" and Robert Armani's "Circus Bells", making them important pioneers of the Acid sound utilising the Roland TB-303.
Your Memory Box host, Robin Ball will also be throwing down his unique style of contemporary Acid warehouse grooves including his own productions (watch out for news on these soon) plus Memory Box bootlegs, retro acid house gems and techno.
Access open to all floors with Throwing Snow playing up above. Don't miss!
Memory Box is a project that celebrates the influences of today's electronic music scene encapsulating some of the most memorable moments in its time.
A Memory Box party covers the history of electronic club music, hearing its origins from the legends and luminaries whilst exploring the influences the past has on today's music and how we shape the future.
Previous guests have included: Farley Jackmaster Funk, Nightmares On Wax, A Guy Called Gerald [Live Acid Jam], DJ Pierre, Darren Emerson, Luke Vibert, Egyptian Lover, Greg Wilson..........
Price: £5/7/10/ MOTD